Your tattoo artists are almost as important as your tattoos themselves. Once you've decided you want a tattoo, and whether you choose one of our artists or not, do your research! Read reviews about the shop AND artists, look at the portfolios thoroughly, talk to the artists in person, and ask as many questions as you need. Be sure you are comfortable with this person as you will be in close quarters together when you begin tattooing.
Sean Ambrose – Owner/Artist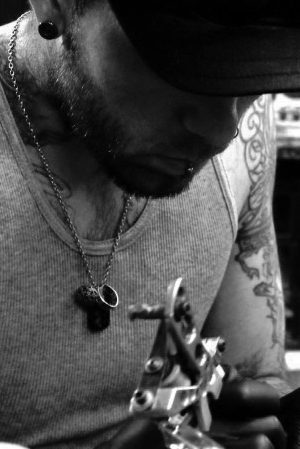 Sean Ambrose is the owner of Arrows and Embers Custom Tattoo and has over fifteen years of experience as a tattoo artist. He can tackle any style you can throw at him and is a self-admitted "tattoo geek" (seriously-just ask him about complimentary textures, the color wheel, or tattoo machines), and he loves tattoos of all shapes and sizes. Sean thrives most when he is allowed a little creative freedom with his clients' designs; for a guy who considers Nikola Tesla, outer space, and the Illuminati "casual conversation," the possibilities are pretty much endless. Interested? We thought you might be-click here to dig a little deeper and see Sean's full portfolio, or check out his Instagram.
Anastasia Hurley – Artist
Anastasia Hurley spent the earlier years of her tattoo career gaining experience throughout Europe, traveling and tattooing whenever (and wherever) she could. Since establishing herself at Arrows and Embers in early 2020, Nastia has becoming increasingly in-demand and books out about a year in advance. Despite becoming a first-time mom in 2022, she still makes time to tattoo, book appointments, come in late for extra consultations, draw flash, kick ass, and take names. Nastia has always been drawn to floral tattoo work, and if we had to guess we'd say that's her favorite! If you're in the market for an amazing floral/botanical tattoo, Nastia's the artist you're looking for! Click here to view Nastia's full portfolio or check out her Instagram.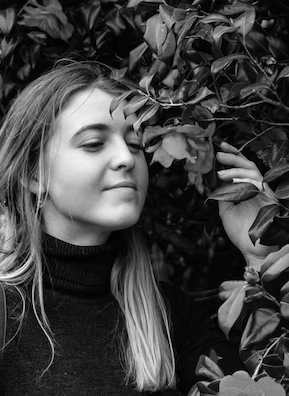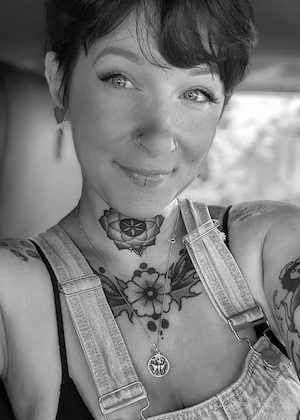 Luna Alden got her start tattooing at a young age in Massachusetts following in her mother's footsteps, who was also a tattoo artist. As a veggie garden guru and plant "enthusiast" (she has over 80 houseplants), it makes sense that some of Luna's favorite things to tattoo are plants and organic subjects. Her tattoos are super clean, bold, and full of color. Luna's work usually leans toward her Traditional style that we love, but she's a jack of all trades and can tattoo just about anything. She is also a self-admitted foodie and a lover of all things colorful and sparkly. Click here to see Luna's portfolio, or check out her Instagram.
Michelle Alfonso – Artist