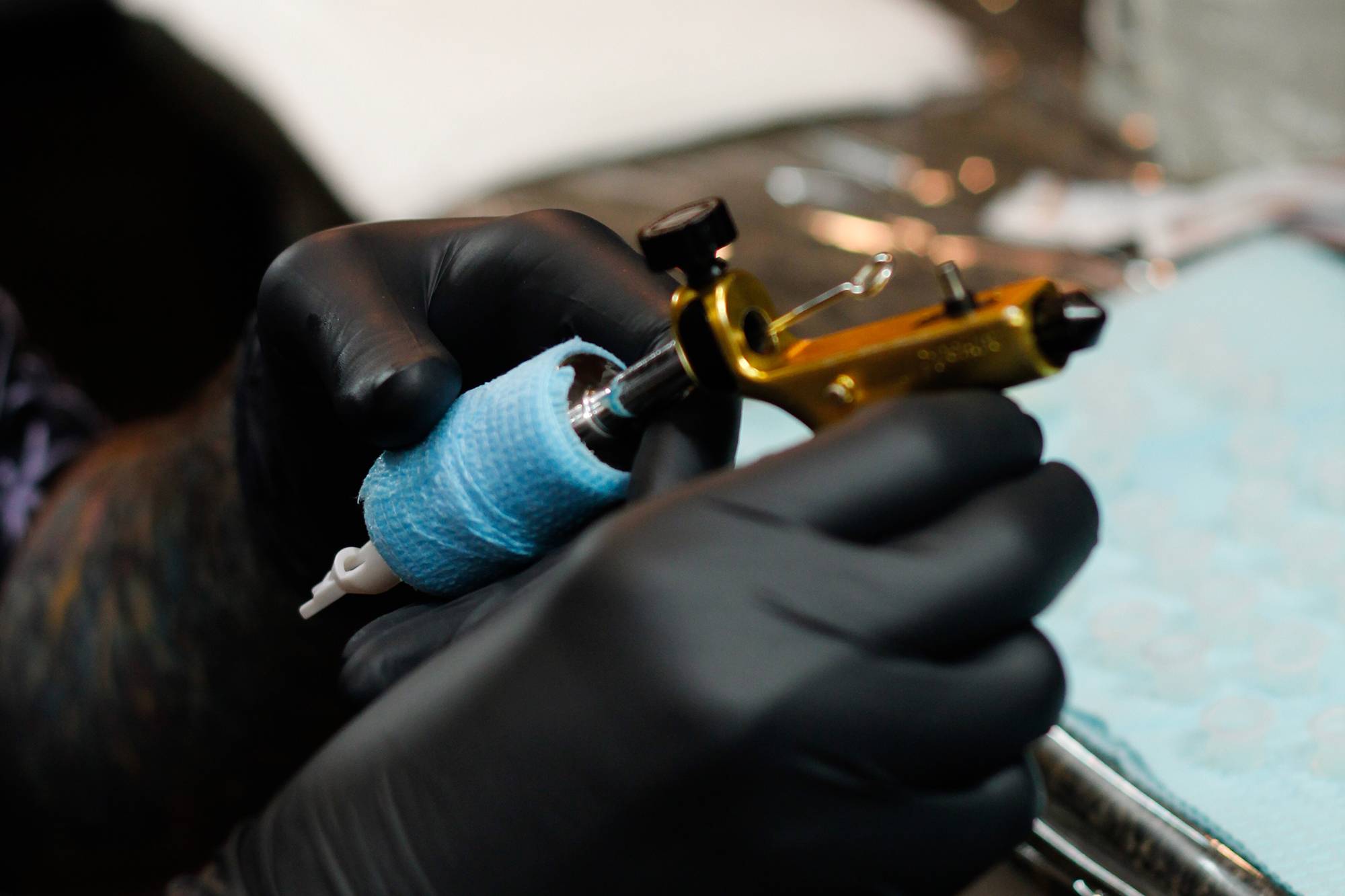 Welcome To
Arrows and Embers Custom Tattoo!
*WE DO NOT DO PIERCINGS*
Arrows and Embers Custom Tattoo specializes in fine, electric tattooing and has been New Hampshire's premier destination for award-winning tattoos since 2010. You may have seen Arrows and Embers (and the work of our artists) published in international and local print such as Tattoo You Magazine, Tattoo Revue, Rebel Ink, The Hippo, New Hampshire Magazine, and The Concord Monitor, just to name a few. Our artists take the time to listen to you and your ideas to design a custom tattoo that exceeds your expectations; if you are looking for flash or pre-designed art, you won't find any help on our walls. We encourage you to be completely inspired by your own ideas for your tattoo, and to utilize our creative talents and artistic skills for guidance.
"I got tattooed by Will Self today and it was a great experience. I scheduled the tattoo within the week of getting it and Will was able to take me in; I was very happy about that. The shop was clean and Will was respectful, professional, and talented. Very clean lines. He did exactly what I had in mind. He was also fun to talk to. Would definitely get more tattoos from him!"
---
"Recently had a really fantastic tattoo experience here. The vibe of the shop is so relaxing and welcoming. There is a bit of a wait for any of the artists there, but they were able to get me in sooner than originally scheduled (would have been well worth the wait even if not!). My session couldn't have been better; an impressive artists and awesome people. Will definitely be back!"
---
"I had a great project going with Sean and now it's finished and I couldn't be happier with the final piece. The entire process was great from start to finish; Sean really understood what I was looking for and made it into something beautiful, personal, and meaningful, something I am so very proud of. Definitely excited to get more beautiful art done here in the future!"
---
"Super clean shop with really amazing people! Definitely the best shop in NH in my opinion. Everyone was so nice and friendly and I had a great experience with beautiful work done.  I will be back for sure!"
---
"So this was my first tattoo and I can honestly say I will be more then happy to come back to this establishment to get more ink done! OMG it's so nice, everyone there was very patient and understanding. I felt very safe and comfortable because they really take their time and care about creating a one of a kind piece just for you. The work done so clean and professional, my art came out amazing it looks perfect! It really puts one's mind at ease when you sit down and chill music is playing and you're surrounded by gizmo and a temple of Buddha and dragons, with a cool person to talk to. Thank you so much for making the experience a positive one and finally helping me get over one of my fears!"
---
"Just started a full back tattoo with Will, I can't say enough about Will and his tremendous knowledge and skills! My five year search for the best artist for me has ended; I have found my tattoo home!! The entire shop is beautiful and clean, amazing friendly environment of expertise and down right cool people. I highly recommend Arrows and Embers!"
---
"Will Self is a legend. Creative, custom drawn tattoos. The staff is very nice and the shop is so cute inside!"
---
"First tattoo experience and I couldn't be more happy!!! Sean took my drawing and brought it to life! He's creative, talented and super intuitive; I wouldn't want to go anywhere else. Professionalism and cleanliness were on point (above and beyond) I walked in and felt immediately comfortable and welcomed. His talents are a hot commodity so if you're thinking of getting some rocking art on your body, start planning now and try to snag an appointment! Everyone here is talented - you won't be let down! Thanks A&E!!! See you again soon!"
---
"Hands down the best shop! Absolutely love it! They make you feel very comfortable and two of the nicest guys you will ever meet!!! There work is amazing! Jenn is so sweet and always answers all your questions thoroughly."
---
"Hands down the best tattoo shop I've ever been to. Everything is super clean, the people are absolutely wonderful, and the place overall has great energy. I felt relaxed the minute I walked in and I couldn't have been happier with my outcome. Definitely will be back."
---
"Sean is incredibly talented and goes above and beyond to make sure your experience is a great one. The references I had are nothing compared to what he actually designs because his designs are SO much better! It may be a long wait because he's so booked, but he is very much worth the wait. Plus his establishment is beautiful and very, very clean."
---
"Incredible work, these artists are absolutely the best! They do amazing work over there, just had a piece finished on my arm and it came out awesome!"
---
"I've been driving over an hour to get tattooed by Will for over a year now and will absolutely continue doing so. He's very professional and strives to give you the best possible tattoo. He's excellent with taking an idea and adapting it to ensure it works well as a tattoo and for the area of the body. Very clean lines that heal boldly and cleanly. The shop itself has such a welcoming vibe and is extremely cleanly. It is always a treat coming up to Arrows and Embers! Well done!"
---
"I have 3 tattoos, and my first 2 are by a female artist, and my third is from Sean. My tattoos all have meaning, and Sean tattoos with that meaning in mind. He is brilliant, kind, caring and considerate of your wants and needs. Sean takes his time, talks to you during your session, makes sure you are doing okay and feeling okay. Sean Ambrose is a one of a kind, genuine tattoo artist! I will never go anywhere else, and I can't wait for Sean to tattoo me again. His shop is clean and well kept. His staff is so kind, and they answer your questions to the point, and get back to you in a short amount of time. I highly recommend Sean to my friends, and strangers. You won't get this kind of work anywhere else!  Sean Ambrose, 5 stars, brilliant, brilliant artist!! Thank you for a remarkable tattoo experience. Hope to be back soon!"
---
"When you get tattooed by Sean Ambrose you get way more than a tattoo, you get a life changing experience. Sean puts so much of himself into his work and it is very clear he loves what he does! He is an amazing artist and person! You wont get your everyday walk in off the street pick a picture off the wall tattoo at Arrows and Embers, you will get an original piece of art made with passion and elegant artistry. Working with Sean on my back piece has been a spiritual life changing experience for me and he is the only person who will ever tattoo me! Sean Ambrose and Arrows and Embers Tattoo–miles above the rest–In a category all their own!!! I cannot say enough!"
---
"Very professional and responsive to inquires. I saw Will for my tattoo and was very impressed with the design that he came up with. I went in with something simple and came out with something bold and beautiful. I couldn't be more happy. The whole experience was very welcoming and professional."
---
Please visit our FaceBook page for more recommendations from clients.
100% happiness with your tattoo and your tattoo experience is our goal. Have something nice to say? Let us know!